Who are we?
4C Recruiting is passionate about helping Recruiting Leaders build their personal recruiting system using our proven model.
Most believe recruiting is difficult and predicated on secret tactics while we believe recruiting is simple when you have a step by step system.
Our President Richard Milligan spent 15 years as a Recruiting Leader inside the mortgage industry where he opened more than 20 offices throughout the United States. During this time he had a number of epiphanies through trials and errors which eventually led him to creating his Recruiting Made Simple system.
Today we work with leaders helping them build this step by step recruiting system.
If you are in need of recruiting coaching, recruiting strategies or recruiting insight please connect.
Our Testimony
format_quote
Hi Richard, wanted you to know I made 8 calls today and set 2 appointments and those were the only 2 that answered the phone.

Here's the best part though, both of them told me that they really liked my approach to asking for a meeting and one of them said it was the best and most unique meeting request he's ever heard. He pulled up his calendar right then and searched for a day we both had available and set the appointment.

format_quote
I have a BIG praise report to share! I am hiring my first 2 employees! I used each tactic that you have taught me so far…...just wanted you to know that I'm grateful for all of your help and I need to schedule our next coaching session soon!
format_quote
So, I picked up of the phone and have 2 appointments. Amazing what happens when you just ask!
format_quote
Richard has helped me so much through his recruiting coaching. His wisdom, ideas, and extensive recruiting experience provide me with invaluable insight into successful recruiting techniques which are highly effective. Richard shared his guidance on positioning myself in the market, conveying my leadership successfully through social media, sharing success stories with recruits which reflect our values, successful tactics to engage recruits, and how to set myself apart from the competition. His coaching will benefit anyone who wants to be a better recruiter!
Timing Is Everything
I would miss out on recruit after recruit even if I had been in contact with them prior. I was puzzled by the fact that people I had spoken with would join my competitors and sometimes within a few months after my speaking with them.


Super Salesman
That I had to be a super salesman with off the charts "woo" in order to be a success. It made total sense to me that only the best salesman in each market would win the recruiting game.



Recruiting Success
That it required 2+ hours of recruiting every day in order to have any success recruiting. I became a slave to my business as the other 15 hats I wore each day required 10 hours a day. So adding 2 to 4 hours of recruiting had me working 60 hours per week.
Upcoming Seminars
Signup for Our Seminars Today
Richard offers an 8 week intensive training. This includes 8 one on one live coaching sessions. If you don't have an individual recruiting system built around you the recruiting leader you should start here. Richard will walk you through creating your own step by step plan geared around identifying talent, making contact with talent and following up with talent. When done you will have a system you can use for your career.
Richard now has a 12 week program which will help you on getting ahead of your recruiting game.

Richard teaches a number of individual courses to assist the recruiting leader in building a team. Whether you need help understanding how to use LinkedIn to recruit, building a team from the ground up or simply accessing your recruiting skills, you will find the course for you.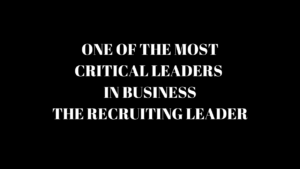 I'm a recruiting coach who runs an organization called 4C Recruiting. We teach people to recruit; specifically, we specialize in the area of recruiting leaders. If you haven't heard of...
Read More