In 2018 I coached 138 individual recruiting leaders. I spoke at a large number of sales rallies, corporate recruiting events, and even more roundtable meetings. With that said, I had a lot of conversations and heard a lot of stories surrounding recruiting. While many of those stories were "one-off" stories there was a number with consistent themes throughout the year.
One of the stories I heard, again and again, was that of leaders trying to motivate with the idea that recruiting success comes from simply making more phone calls and scaling the "recruiting noise." In one of my coaching sessions, a Branch Manager came in completely deflated because the big focus for that week established by his leader was hammering the phones. This challenge came through the lens of "let's track all our calls and see how many phone calls we can make this week." When I asked what phone script was promoted or discussed as one to be used there had been none provided. The majority of people making the calls were using a phone script centered around "if you're interested in a new opportunity I would love to meet with you." Uh yeah, that phone script doesn't work in case you were wondering.
Let me analyze this approach…..
I get that we all want and need to inspire our teams. It is known that accountability is critical to success. It is also known that what gets measured gets improved. Thus from a basic sales premise, I too agree that numbers matter. You should be keeping score as what gets focused on always expands.
BUT!!!!!
I throw a BUT into the mix as there is more to this than motivating, creating competition and measuring behaviors!
There is so much more to recruiting than tracking phone calls and text messages. Way more!!
Let me share a story that will put some of this into perspective. I remember back in the fall of 2006, yep way back!! I was a boy then………..who am I kidding! I was a grown man in his mid 30's but I would give anything to have been a boy in 2006!
But I digress, where was I?
Oh yeah, it was fall of 2006 and my brother-in-law approached me about doing a half ironman triathlon. He has always been a great runner and in great shape. Me on the other hand, well let's just say God didn't design Richard Milligan for biking, running and swimming. I am 6'5", 230 lbs and come from an average athletic gene pool. I love to exercise but going fast and far isn't exactly in my athletic profile.
To add to this I didn't know anything about triathlons and while I was excited about the idea of competing in one I was just as excited about completing one.
There was a slight problem as I was motivated but I had no education on how to train. I was clueless on what road bike I should buy, where I could practice open water swims, what I would need for supplements, what my overall nutrition should look like, what tri-gear I needed and more.
Immediately my competitive spirits ran high so I looked at the race I was committing to doing (Redman Triathlon) and prior years races to determine where I wanted to finish.  I knew enough to know I didn't know what I needed to know. Thus I began the search for good information.
I subscribed to several triathlon magazines.
I joined a local triathlon club so that I could attend their monthly meetings.
I bought several DVD's made by world-class triathletes that documented their journeys to completing races.
I bought a 300-page book which had over a dozen training plans. This book broke a 9-month training plan into what needed to be completed daily so as to be in racing shape.
I sought out a local bike store who fitted athletes for bikes.
I paid a successful triathlete to teach me everything he knew about open water swimming. I even paid him to train with me.
I studied supplements so that I knew how to train and race well in 100+ degree weather.
And so much more!!
When I started out I was motivated but uneducated. 
If I had taken my excitement and simply began training I would have gotten crushed on race day. What I didn't know is that race day would involve unusually high humidity (80+%), high temperatures (90+ degrees in September) and high wind speeds (15+ mph).
Ends up that anyone who came into race day unprepared got crushed. Along the final 5 miles of the race, I was passed by ATV's taking what seemed like more than 100 racers to medical tents as dehydration and cramping had overtaken them. These didn't cross the finish line even though they had trained as highly motivated individuals.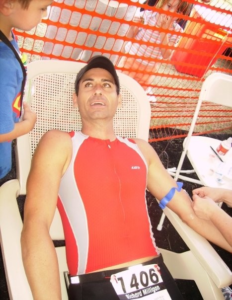 In the end, I beat my goal time by less than 1 minute. But doing so seemed like a miracle as I walked most of the final 5 miles due to every muscle in my body cramping. Upon hitting the finish line I spent more than 90 minutes in the medical tent and received 3 IV's of fluids. Eventually, the cramping subsided but it was a rough 24 hours following the race. Sounds like a normal day at the office for a Mortage Recruiting Leader doesn't it, haha! I give you this story for the purpose of getting my point across.
Motivate before you educate and you discourage! 
Yes, that is tweetable!!
I see so many leaders trying to motivate their team to recruit when the team has no clue how to recruit. Here are some of the misconceptions that people use to motivate:
Making more phone calls is key to getting in front of more recruits.
Connecting with people on LinkedIn in high volume and asking for a meeting is how you achieve recruiting success.
Mailing something creative to recruits and scaling the number of people you are mailing it to is how you have more recruiting conversations.
I listed a few of the things I hear and see people motivating around. Do more of this activity, do more of this behavior and you win, right? WRONG, WRONG WRONG!!
We must provide our recruiting leaders as well as ourselves with more education. If you believe #1, #2, and #3 are right then hit up my calendar so I can give you a free hour of education (www.bookrichardnow.com). Seriously, I time block everything and if there is an hour on my calendar know it's yours with no strings attached. Recruiting has changed and few are educating themselves to understand this. So many are simply trying to motivate and inspire more activity from themselves or from their Recruiting Leaders.
If you are wondering how you should educate, you start by teaching someone WHY they should be doing something and then progress to HOW they should be doing it. Motivation should come once the why and the how are in place.
If you want to start your education process check out this 90-minute webinar I recently did here. This would be a great place to start your 2019 especially if you are a Branch Manager!
Additionally, I do a weekly podcast called Recruiting Conversations. You can find this on iTunes, Google Play or here. Each week I discuss a conversation I had with a Recruiting Leader and then use that conversation to give you actionable items you can apply to your own recruiting efforts.