Over the last few years, LinkedIn has been silently making changes on the backend to update the user experience. From tweaking the algorithm to developing new tools for creators, a lot has changed on the platform. And the updates have been paying off. LinkedIn reported a 22% increase in feed updates in 2022 compared to 2021, and cited "record levels of engagement" last quarter.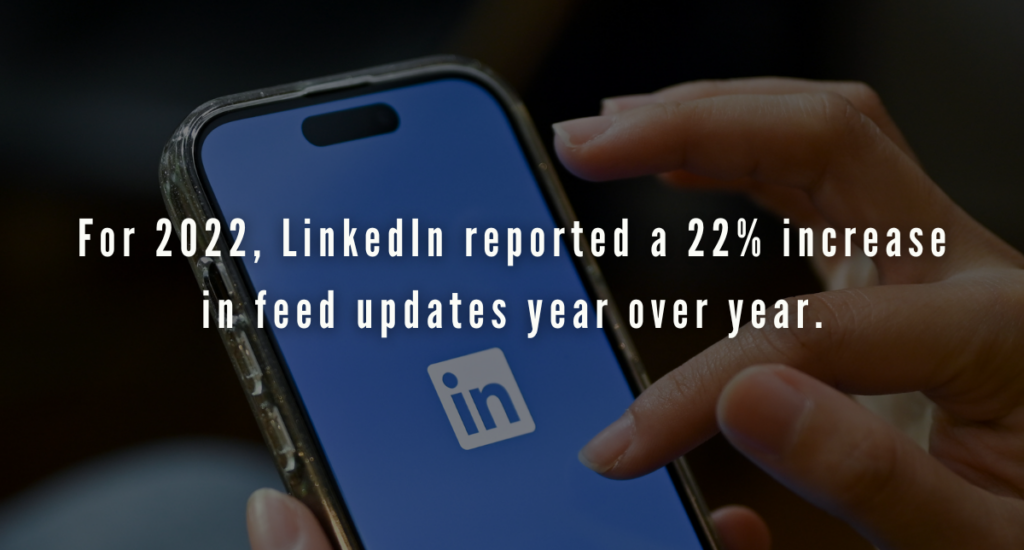 LinkedIn continues to be the destination for many Recruiting Leaders. It provides opportunities to reach the right people and connect with new recruits. But with all of these changes on the platform – how are you supposed to keep up?
In order to dominate on LinkedIn, you first must understand what changes have been taking place. Here are some of the top changes we have seen that are making big waves in the feed.
LinkedIn recently announced the launch of its new Podcast Academy. The platform aims to expand and elevate the quality of the company's podcast network. The academy will provide podcasters with a range of resources, including:
Online courses,
Expert advice,
And best practices
These will help podcasters create engaging content and build their audience.
LinkedIn's podcast network has seen significant growth in recent years. The company reported a 42% increase in engagement with its shows in 2020. If you are interested in creating a podcast, now could be the time!
LinkedIn has launched a new feature called "Collaborative Articles." It's powered by AI to help boost engagement and increase collaboration. Users can invite other members to contribute to their posts, which makes it easier to share content with a wider audience. Collaborative Articles will also include AI-powered suggestions for formatting, tags, and keywords. This will optimize the post's reach and visibility. One way we suggest using Collaborative Articles is to connect with your leadership team and make a blog post together. This will ensure it gets out to everyone's audience – not just your own.
Updates to Company Engagement Reports
LinkedIn has introduced new segmentation options for its Company Engagement Report. This enables marketing teams to follow the performance of their LinkedIn Page across audiences. It provides data on how different job functions, industries, and locations interact with a company's LinkedIn Page. Administrators of the page can then optimize their content for specific target audiences. The Company Engagement Report provides insights on metrics such as:
Impressions,
Clicks,
And engagement rate.
People on LinkedIn are still more likely to interact with your personal page over a company page. But these insights can still help you grow your online presence.
Sales Navigator Gets a Revamp
LinkedIn has also rolled out new updates to its Sales Navigator tool. It now provides additional intelligence elements. These will help recruiting teams understand and connect with their target audiences. The updates include:
New alerts for job changes and company growth
A new "Buyer Circles" feature that allows teams to collaborate and share insights on potential prospects
A new dashboard with a more comprehensive overview of sales activities and performance metrics
These new updates reflect LinkedIn's ongoing efforts to provide more robust and intuitive tools for recruiting professionals.
User Profiles Get More Visually Appealing
LinkedIn is working on making user profiles more appealing by adding more visuals into the Activity section. Users will now be able to display images, videos, newsletters, and documents in a more engaging format.
This is in line with the shift towards visual elements across social platforms, so the update is not unexpected. The new experience will be available to all LinkedIn members in the coming weeks. And it will provide more opportunities for professional connections and engagement with content.
New Options for Job Seekers
There are new tools and features to help job seekers find employment more easily on the platform.
The updates include:
A new Career Explorer tool, which matches a user's skills with relevant jobs and offers personalized guidance on potential career paths
New insights on job postings, allowing users to see key trends and data on job titles, industries, and locations
Preferred location settings for job searches
And the option to add a "looking for work" open-to-work photo frame to a user's profile
As a Recruiting Leader, keep an eye out for potential recruits using these new features so that you can identify who might be looking for a change.
"Starred" Function in Chats
LinkedIn has added a new "Starred" function to its messaging feature. This allows users to tag important conversations with a star icon for easy reference later on. The feature enables users to quickly identify and locate key conversations in their chat history. This can be particularly useful for busy professionals who receive a high volume of messages on the platform.
This builds on LinkedIn's efforts to improve its messaging and communication capabilities. As a Recruiting Leader, it will be more important than ever to make sure your conversations are engaging and avoid spammy language. You will want to provide value that will get your conversations "starred" by potential recruits.
LinkedIn's latest changes offer many opportunities for Recruiting Leaders to strike gold on the platform. These new tools and features help users optimize their presence and expand their professional network.
Remember to approach the platform with intention and a clear strategy, and be willing to adapt as the platform continues to evolve. With the right approach, LinkedIn can be a powerful tool for achieving your recruiting goals. So go ahead and start exploring the new features and get ready to strike gold on LinkedIn. 🏆🏆