I recently had a conversation with an individual centered around a desire of his to have success quickly. Specifically he wanted to discuss a fast way to build a team.  The conversation kind of went like this…..
"I don't have a lot of time to be successful. All of my compensation is going to be based on the wins I have inside of recruiting. And so I can't wait to be successful."
My response to him was this,
"I appreciate the fact that you can't wait to be successful but we don't get to determine everything that takes place on the recruits side when we're recruiting, so while we do have personal assets that we can scale we don't have the ability to swallow a blue pill, and automatically win a recruit."
If there were three steps someone could take and automatically win at recruiting, I wouldn't be writing articles.  I'd be selling the three magic pills for a price well north of seven figures and you and I would be sitting on a beach somewhere, haha!!  
Let me give you some insight into having the right mindset for this. We are not recruiting we are relationship building.  I'm not trying to convince a recruit to join my team in three days or less. What I'm trying to do is build relationship with them first and foremost through the lens of my core value and core belief system.  I love replacing the term "relationship-building" when referencing recruiting. What I know is that building relationships can take time.
With that said, I can share a  lot of moments where recruits move quickly.  
One that comes to my mind  is a young man that from the first time I had a phone conversation with him to the time that he was working with one of my teams was less than two and a half weeks.  That happened quickly, but that is not going to happen in the largest percentage of your recruiting wins. We must be willing to play the long game.
Now here's the advice I gave the gentleman with the question. The average recruiting leader can typically invest 30 to 60 minutes per day and these are people being very intentional. If you're wearing the 12 to 15 hats of  managing a team you only get that 30 to 60 minutes if you are time block and prioritizing.
But this gentleman does not currently have a team underneath him as he was building from the ground up. So if I take the 30 minutes that the average recruiting leader can invest in recruiting each day and I multiply that out over 20 working days per month, we'll assume five working days in a week.  Multiply that out over the course of 52 weeks you end up with 260 working days where one can invest 30 minutes each day. When we work that math out, the math is 130 hours that the average recruiting leader can invest into recruiting over the course of one year. BUT if I don't have a team, I can invest 40, 50, 60 hours a week into recruiting. If I invested 60 hours a week, I can accomplish more in two weeks what some can accomplish all year.
So my biggest scalable asset to win quickly is my TIME.
If you already have a team underneath you, and you can't do that I would encourage you seriously consider  how to maximize your time. What things are you doing that you should not be doing or that you could delegate?  If you can go from 30 minutes to one hour or two hours each day, you can see how people scale and build teams quickly.
In the end, there are no shortcuts. Your advantage is this, few are willing to put in the time.  Even fewer are willing to invest in honing their recruiting skills to become the best recruiting leader in their market. If you are willing to perfect your recruiting skill set you will win simply because few are willing to do it.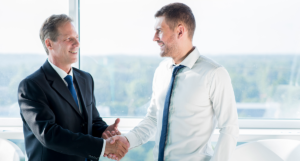 If there are other pieces besides scaling your time it would be this, be patient. You must have the right mindset to be a successful recruiter. If I lean on somebody heavily that's already told me they're happy where they are, but that they're willing to let me stay in touch, I can actually throw a hand grenade on that bridge.  Emotional intelligence is critical when recruiting. Where people say, I'm happy, I'm content, we should honor and respect that BUT still work hard to build the relationship. I will connect with that individual every single month! I'm going to figure out creative methods to communicate to that recruit forever.
Lastly, have a system!  That should seem obvious but I have found most recruiting leaders are tactical recruiters.  Become a systems based recruiter by always understanding what your next steps are.  Map those next steps out and follow them as you work to build relationships.
Want more insight?  I recently discussed this exact topic on my weekly Podcast Recruiting Conversations.  Check it out here:
Recruiting Conversations Podcast
If you want more insight register for my weekly emails here: 4C Recruiting Website
If you need help creating your own unique recruiting system, you can setup a time with me via Zoom at Richard's Live Calendar